Back in 1985 the world was introduced to the Doc and Marty McFly in the iconic movie "Back to the Future" which as followed by 2 sequels – we were treated to a trip into the future that took us to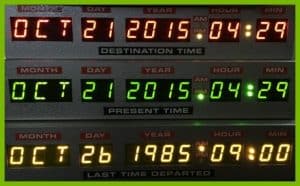 October 26, 2015 at 4:29 as you can see from this clip from the second movie

Universal pictures is clearly enjoying the fun to and released this teaser

In a stroke of genius Dell planned their DellWorld event to coincide with this – hence the Time Machine on the Show Floor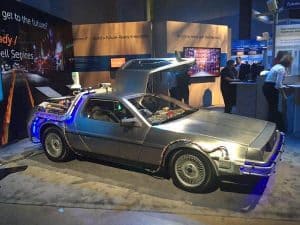 and we put together a video honoring Back to the Future Day


We have been enjoying a trip to remind ourselves how far we have come
So we do have self tying shoes – Nike Air Mags
And this video is close enough for a Hoverboard from this Canadian Inventor
We have seen huge progress in innovation especially in healthcare and at Dell World I am showing off devices from a range of players in the space doing some interesting and unusual things:
Muse – The Brain Sensing Headband
 – I've been experimenting with this for the past few days. Incredible insights into how active our brains are and offering a way to calm and relax. Especially useful if you are like me and struggle to focus on any form of relation with your mind wandering. It senses your brain waves using a series of electrodes positioned at the front of the band and then links to your phone and the accompanying app that provides exercises using feedback to help you focus and improve your focus and ability to relax
I'm still new but in a few days I have already noticed a small improvement in my ability to focus and relax for slightly longer periods. I will be reporting back on experiences on this
MDMouse – Measuring your Blood Pressure with your Mouse
I was intrigued by the idea of measuring my blood pressure on a more regular basis by incorporating technology into a sensor into a commonly used interface device
The unit has a fold out cuff that you insert your finger into and accompanying software will use this to measure your blood pressure on demand. As we have seen with other devices making the process as easy as possible improves use and compliance and this adds more granularity to blood pressure readings and trends. I'm expecting this to show some improvement based ont he effects of the other activites.
HexoSkin – The Smart Shirt
Intelligent fabrics are coming to a fashion store near you and soon and Hexoskin is one of the early examples.
Amongst the metrics a real time ECG
But there is so much more and power of this is as much about the accompanying application and the deep insights into training regime that is customized to you, your body and current fitness levels. I'm going to start down the path with this – measuring my VO2 Max and then start a program to see how much I can improve on this.
Fitbit have been in the wearable monitoring space for some time (founded in 2007) and I personally have owned a wide range of their devices. The latest – the Surge offers GPS tracking with heart rate tracking in a battery efficient package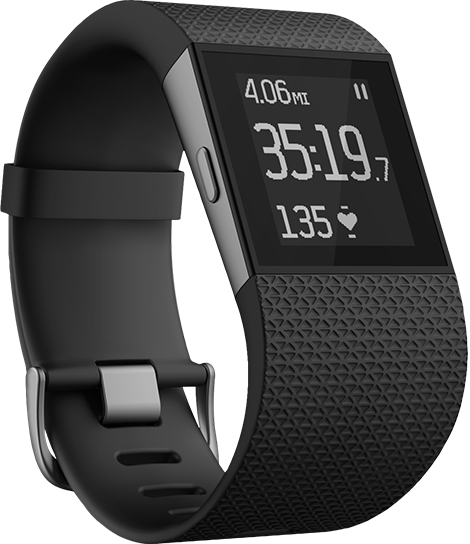 Early days for my journey but again expecting to use the interaction alongside others to help customize training and keep myself motivated – especially while on the road
Spire – Mental and Physical Health Improvements
Based on a simple "Stone" that clips to the inside of your belt or bra and tracks your breathing as the basis of its feedback. It comes with a charging plate – no need to plug the device in to charge
Simple design but packs an interesting punch that keeps offering feedback via your Bluetooth linked phone and Spire App. An interesting (and useful discovery) – it is waterproof! For those looking for simplicity this may well be a great match and I will be comparing the interactions and results over the coming weeks
Then finally two more targeted solutions
uBiome – Exploring Your MicroBiome
We are made up of much more than our own cells and in fact there are 10 microbes for every 1 human cell. Increasing amount of science suggests this is a big contributor to our health status but until recently we have been unable to assess it. This kit changes that offering
I have not had a chance to gather samples but will be doing so in the next few weeks to explore this new frontier in medicine and understanding of our bodies and health and wellness
SmartVision Labs – The Smart Phone Vision Exam
In this innovative smartphone based tool – offering vision exams using an iPhone and an attachment
Like the other iPhone attachments this device stands to open up access to the millions of people in the world who walk around with uncorrected vision – this is the first step in letting people see
Finally
And a special shout out to the 88pmh investment house in Africa (@88mph_Africa) – who have invested in 36 companies between 2011 – 2014 in Kenya and South Africa and as Ashish Thakkar puts it: The Lion has Awoken and this powerhouse of innovation is creating some incredible technology – watch this space
---
You can also follow me here on
medium
, on
twitter
, or on
facebook
or Sign up to receive my posts each week