On Tuesday March 15th, 2016 a the Dell Lounge at South by Southwest (SXSW) we hosted the #DoMoreHIT Thinktank event.
This was Dell's 5th's annual healthcare Think Tank. Together with my good friend and colleague Mandi Bishop – Healthcare Analytics Innovations & Consulting Practice Lead, Dell, #HIT100 influencer, @MandiBPro we were joined by a veritable who's who of thought leaders from healthcare and related industries for an outstanding set of panelists:
Wen Dombrowski, MD, MBA Physician Executive
Joe Kim, MD, MPH, Physician Executive
Dan Munro, Forbes Healthcare Contributor
John Lynn, Blogger and Entrepreneur
'e-Patient Dave' deBronkart, Patient Advocate, Speaker
Robin Farmanfarmaian, Patient, COO, Best-Selling Author
Nick Cifuentes, Director of Digital Engagement, Dignity Health
Mini Kahlon, Vice Dean, Dell Medical School
Stacey Burr, Digital Sports Managing Director, Adidas
Scott Lundstrom, Group VP and GM of IDC Financial, Government and Health Insights
Claudia Williams, Sr. Advisor, Health Innovation and Technology at White House Office of Science and Technology Policy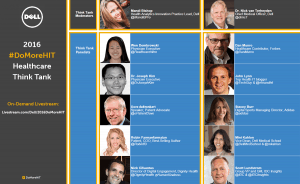 We divided the session up into three segments –  Data explosion in Healthcare, Embracing New Technology and How to be Future Ready
The Data Explosion in Healthcare
Physicians, patients and health systems are over whelmed with data – is there too much noise to discern the signal of relevance?
Is there any focus area for gathering or managing data that healthcare should target over others (wearables vs genomics vs population health vs clinical data vs lab values vs imaging for example)? And are there data sources outside those traditionally considered "health" that you'd consider particularly relevant?
What can patients – and clinicians – do to get ready for the deluge of data and information that they will be receiving and become increasingly responsible for managing?
How can we, as an industry, and our individual organizations help make the vast quantities of diverse data into meaningful information that can be readily understood?
How much do you trust the quality of the data sources your organization is using for BI and analytics? And how do you address it if/when you don't trust the data quality?
If your organization is collecting data about your patients/consumers, do you offer that data – and any health insights derived from it – back to those patients/consumers? If so, how? And if not, why not?
Embracing New Technology
How do we embrace technology while keeping the focus on patient and compassion?
Is there any new technology that stands out as delivering value that patients, clinicians and health systems can jump on, now?
Do you think there's a fear amongst healthcare providers that digital health technology, in conjunction with advanced analytics, will change – perhaps reduce – the role of the clinician in healthcare delivery?
What do you see as ripe opportunities for emerging technology to disrupt healthcare? What's already been done that's working, and what do you think is on the horizon that's about to break?
How do we make wearable technology and remote monitoring accessible to the underserved populations who may best benefit?
What do you think are the biggest obstacles to tech adoption (for consumers and for providers/industry)?
Future Ready Healthcare
What does being "future-ready" mean to you and your organization? How can you be future ready in the age of constant and increasingly rapid change?
What one thing do you think will change the future of healthcare this year, in 3 years and in 10 years?
Increasingly people want personalized health and wellness care – how do we deliver that with the current system that does not readily enable personalization (both from a technology perspective and from an incentives perspective)?
Do you believe precision medicine principles – genomics informing personalized clinical pathways – are sustainable across vast numbers of people? Or are they perhaps best narrowly applied to complex disease states with limited number of affected persons? And how will incentives have to change to align?
When was the last time your doctor asked you how you'd like to be engaged? And if they've asked you, have they done what you suggested?
Do you have a formal patient/member advisory board/council? If so, how does it work? And if not, why not?
The event was a great success and despite the global LiveStream issues at the time we managed to trend #2 on Twitter just behind #IndianaJones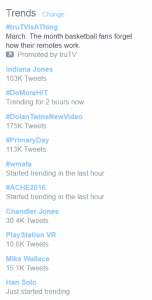 As of writing there have been over 20M #DoMoreHIT impressions and the material continues to provide additional utility and is in use in other forums. The venue itself was packed and there have to date been 2,500+ Livestream views and ongoing On-Demand promotion and use. In house attendees and online described it as the "best panel yet!"
The 3 sessions from LiveStream can be viewed here
http://livestream.com/Dell/2016DoMoreHIT
The Highlight Reel from the Dell Lounge Week Long Activities
Dell lounge Photos here
---
You can also follow me here on
medium
, on
twitter
, or on
facebook
or Sign up to receive my posts each week