Here's a listing of some of my recent interviews published
2018
FitBIt Captivate Conference
Revel Row, Chicago, September 2108
FitBit Health solutions put on a 1-day conference – Change Behavior, Change the World and included a Fireside chat with Dr John Moore the Medical Director for FitBit Health.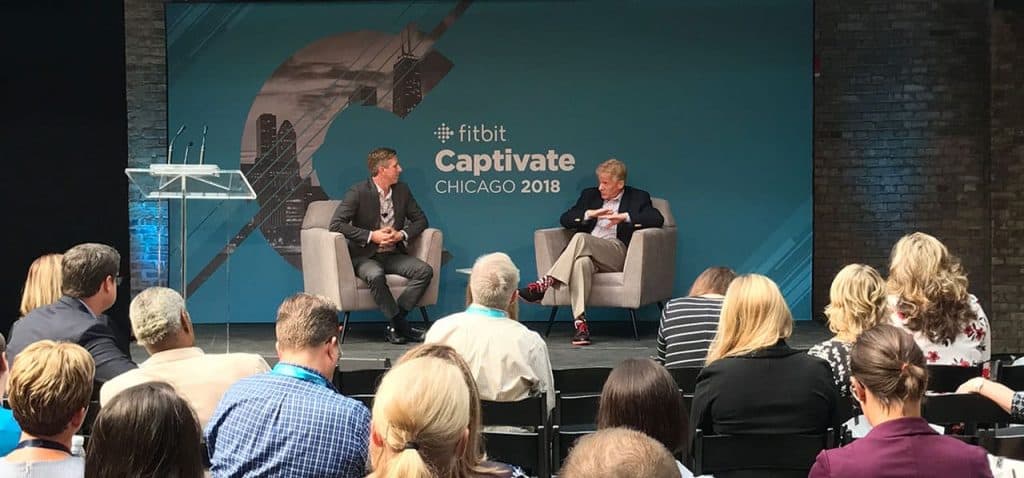 5 Key Takeaways from FitBit Captivate 2018
The digital health trends conversation continued during the fireside chat with Fitbit's John Moore and author/futurist Dr. Nick van Terheyden. These two docs were equally excited about the increasingly important role machine learning will play in helping to make data more useful to care providers. The idea is that bots can address the simple inquiries and transfer over the more critical conversations to physicians and human coaches, allowing for more efficient and personalized care. While there's still plenty of work ahead, this is indeed an exciting time for the emergence of technology and healthcare.
Zoom Care Releases Transparency Report, Including Harassment Allegations
The Lund Report, Aug 2018
The co-founder and chief executive of Portland-based Zoom Care says an ambitious transparency initiative his company has launched represents the future of health care in the United States.

"Patients are used to trusting everything that was fed to them," he said. "But we're living in a completely different world now where knowledge is power."…. "I applaud them for this and I have a huge amount of respect for their calling out names. Many, if not most, health-care providers are simply unwilling to do this."
At its best, IoT for healthcare bolsters data integration
TechTarget IoT Agenda, Jun 2018 (pdf)
Healthcare IoT aims for data integration, but interoperability challenges remain. Properly configured connected devices can ease these concerns for health organizations. Thanks to more smartphone penetration, improved Wi-Fi capabilities, more built-in sensors and an increased number of wireless devices — including diagnostic instruments — IoT is growing into a success story in healthcare organizations.

Data integration remains the mainstay of high-quality healthcare, allowing for the unobstructed sharing of clinical data for optimal decisions to be made to treat patients, based on the most current information and data
The High-Tech Hospital the World Wasn't Ready For
Healthcare Analytic News, May 2018 (pdf)
In 1994, what was supposed to be a game-changing hospital opened just outside of Glasgow, Scotland. It was called Health Care International, and it was touted as the "first paperless hospital." But less than half a year later, it was in financial ruin and on the auction block.
To help answer these questions, we welcome Nick van Terheyden, MD, the key opinion leader who founded and runs Incremental Healthcare, a company that focuses on small, below-the-radar changes. He also served as the chief medical officer of Dell. But before any of that, van Terheyden helped design HCI and its novel data- and tech-driven infrastructure. He discusses the hospital, what it lent to healthcare as a whole, and the bigger issues facing health tech, namely the use and improvement of electronic medical records.
Cybersecurity: Nightmare scenarios and guiding principles
Healthcare IT News, May 2018 (pdf)
By now, the healthcare sector is fully aware of the looming target placed on its back by hackers. The issue is that legacy infrastructure, staffing shortages and insider threats can make it tough to tackle these issues.
The biggest threats lie within the legacy infrastructure of healthcare itself. This includes medical devices operating on outdated platforms, along with IoT devices. We have not have seen it happen frequently but, if those devices are hacked cybercriminals can actually put patient lives at risk. Potential attacks on basic infrastructure like life support are equally troubling. That's a view shared by others during Thursday's #HITsecurity tweetchat ahead of the HIMSS Healthcare Security Forum.
"That's the thing about healthcare and healthcare security – when your imagination runs wild with the possible attacks people die," said Nick van Terheyden, MD, founder, and CEO of Incremental Healthcare.
US1 Princeton
Paging Dr Nick (pdf)
Technology rarely advances by leaps and bounds — rather, it slowly improves, each new invention incorporating the lessons learned from previous generations. It's a process more akin to evolution than revolution, or so argues Dr. Nick van Terheyden, a healthcare innovation expert and former chief medical officer for Dell. Van Terheyden, who has nicknamed himself "The Incrementalist," now has a company called Incremental Healthcare that offers strategic advice for healthcare providers.
For The Record
Artificial Intelligence Forges a Path in Health Care (pdf)
There are countless opportunities for health care to take advantage of AI's wizardry, says Nick van Terheyden, MD, chief medical officer at BaseHealth, who points out the technology's ability to accelerate knowledge from discovery to application.

"Let's take the well-known science behind taking aspirin for a heart attack," van Terheyden says. "Decades ago science proved that giving a patient a beta blocker and aspirin at the first signs of myocardial infarction was the best practice to reduce the impact. But it took 15 to 20 years before this became a common practice. AI gives clinicians the ability to accelerate the timeframe in which we can define best practices, from the point of discovery to the point of clinical care."

According to van Terheyden, AI enables data offloading, captures information, and identifies correlations between data sets, which enhances human knowledge and effectiveness and automates noncore processes so that physicians can focus on patient care.

"For health systems, AI offers the greatest opportunity to leverage the physician's time and the patient's data effectively," van Terheyden says. "It enables us to provide access and critical care needed to improve both our overall population's health and the individual patient's experience with the health care system. In turn, this reduces the per capita cost of health care."
2017
KNect365 Life Sciences
INDUSTRY VOICES: The future of clinical trials
'Clinical trials must move from the traditional method and systems to a more rapid and responsive model that speeds up the process of scientific validation and utilization of new treatments. We live in the most measured age in history where all data is being captured. This offers a new window into the workings of our world and the human body and this requires a shift in scientific thinking. We will need new ways of understanding this data as correlation supersedes causation. No more discarding or selective use of data but rather full and open publishing, democratizing the access to the data and allowing everyone the opportunity to mine the data for insights.

This approach is not without risk as we develop models of understanding that cannot be explained by current science that will prove difficult to test. The models will be dependent on inclusion of all the data and missing elements or comprehension of the underlying data will skew the output in unexpected ways and will demand rigorous scientific vigilance.

While correlation is not causation the data will offer early insights without specific theories that will need testing and validation continually. No longer will proven theories remain standing forever but will become part of the scientific lexicon that will be incrementally improved over time. Science will be challenged and tested as we continue to expand our knowledge and understanding exponentially.'
Synthetic intelligence: Large information and invisible sufferers (PDF)
Tech2
If the barrier to precision medication is information dealing with, then synthetic intelligence (AI) would be the logical answer. Machine studying and deep studying are making inroads in a wide range of industries, and appear poised to have a big effect in medication, a course of that's already in movement – and maybe not a second too quickly.

"The true alternative of all that information shouldn't be the sufferers who're already sick, it's figuring out and understanding those that are at present not touching the system," mentioned Nick van Terheyden, founder, and CEO of Incremental Healthcare. "All of the invisible sufferers…that we will establish primarily based on that extra information set…"
Artificial intelligence: Big data and invisible patients (PDF)
TechniTab
If the barrier to preciseness drugs is information handling, then Artificial intelligence could also be the logical resolution. Machine learning and deep learning square measure creating inroads during a kind of industries, and appear poised to own a giant impact in drugs. A method that's already in motion – and maybe not a flash early on.

"The real chance of all that information isn't the patients World Health Organization already measure as sick, it's characteristic and understanding people who are presently not touching the system," aforemention Nick van Terheyden, founder, and business executive of progressive tending. "All the invisible patients…that we will establish supported that further information set…"
What providers can learn from the hospitality industry
Health Data Management (02/2017)
Patient satisfaction is not just about whether a patient is pleased with the treatment being received; more important is whether the patient really is having a good clinical experience that will translate to improved outcomes.

Hospitals aiming to provide optimal patient satisfaction and outcomes could learn some lessons from the hotel industry, particularly Hilton Hotels, says Nick Van Terheyden, MD, one of the pioneers of modern electronic health records and speech recognition technology, as well as a futurist.
During an education session at HIMSS 17, Terheyden and Nathalie Corredor, senior vice president of corporate strategy at Hilton, will discuss how Hilton gave guests consumer digital engagement tools to increase guest controls over their stays, personalizing their hotel stay, and show how healthcare can help patients personalize their hospital experience.

The PDF here
HIMSS17 Ground rules and what we'll be watching
Healthcare Dive (02/2017)
This is the year that the healthcare industry will start to take patient engagement seriously, in part because we now have technology that can make the process more efficient and affordable. CRM systems will become the go-to technology for organizing non-clinical data about patients, and this non-clinical data will play a bigger role in chronic disease management. We are learning that what happens in patients' daily lives has an enormous influence on outcomes, and we need the socio-economic data that patients share to be organized and accessible for all caregivers. Telehealth and remote monitoring will also take a big leap forward this year, as primary care physicians adopt the technologies to stay close to those patients that need more intensive services to get and stay healthy. I also see patient portals getting much deeper use, providing a secure and convenient communication challenge for patients and caregivers."

Bring your business card
Go ahead and introduce yourself to individuals you want to meet. You're at a conference
HIMSS is a marathon, not a race. Stay hydrated. You'll thank yourself later.
The PDF Here
2016
How big data is having a 'mind-blowing' impact on medicine
TechRepublic (07/2016)
For a long time, doctors have been able to diagnose people with diabetes—one of the world's fastest growing chronic diseases—by testing a patient's insulin levels and looking at other common symptoms, as well as laboratory results. While there has been great accuracy in their diagnoses in the past, the real opportunity in healthcare at the moment, according to Dell chief medical officer Dr. Nick van Terheyden, is the role big data can play in taking the accuracy of that diagnosis a step further by examining a person's microbiome, which changes as people develop diabetes. "We can come up with a definitive diagnosis and say you have it based on these criteria. But now, interestingly, that starts to open up opportunities to say 'could you treat that?'" Terheyden said.
Health consumerism will drive future of healthcare
SearchHealthIT (07/2016)
As hospitals recede as the dominant focal point of healthcare, the consumerization of health is empowering people with access to their own health records and patient engagement.
This is not about getting rid of people. This is about freeing up those resources that are already over-utilized. The idea that you only spend seven minutes with your physician is really a function of them doing all these other tasks. While they add some value, they're not really the value that I, as a patient, am looking for. So, I think the technology is really enabling that shift of activity, allowing people to be engaged. I'm a big proponent of this interaction and the opportunity for technology to enable that interaction, allow me access.
Openness in delivering healthcare information key to patient engagement
SearchHealthIT (07/2016)
As health data and IT advance, patients have more control over their own health information than ever and more access to patient engagement technology.

The same is true with all this healthcare information. Even when you go to Africa, where their access to the technology is limited quite often to text-based phones, even with the simple process of text-based messaging, they've got systems that allow them to expand the reach and accessibility of healthcare information for their community. They have a much less dense availability of physicians. So, where there are fewer physicians per person … they use paraclinical resources. They support them with text messaging. We've seen work on outbreak information. Everybody knows about Ebola. But there are many other diseases that have a transmission effect and the ability to communicate that so that you can bring the resources and support and also quarantine appropriately.

One of my favorite examples, because it has this really compelling message at the end, [is] the ultrasounds that are carried out on pregnant moms that were stored and forwarded using a minimal amount of data. They were done by people who were trained to do them, but couldn't read them. They weren't typically physicians, but rather, more often than not, a midwife or somebody like that in these remote villages. This is about access and democratization of delivering healthcare information, and pushing it out to the people and making the people [who] are experts more available.
Africa's women digital entrepreneurs are driving innovation

Diginomica (07/2016)
Africa is a continent of entrepreneurs, particularly in the mobile space. But tapping into the innovation and creativity of the 1.1 billion citizens who live in its 56 very different countries is about "combining the best of global with the best of local".

Nowhere is the old adage 'necessity is the mother of invention' more true than in Africa, that most misunderstood of continents.

As Nick van Terheyden, chief medical officer at Dell Services, pointed out during an 'Emerging Innovation' session at the Dell Women's Entrepreneurship Network (DWEN) Summit in Cape Town, South Africa, last week:

It's easy in the West to believe that we're the leaders and innovators, but the majority of innovation comes from places with less resources. And with so little, they achieve so much.
Dell CMO Gives Texas Physicians Glimpse of Future in Austin
Texas Medial Association (07/2016)
Disruptive innovation is currently happening in medicine. Although it is unlikely that medical IT departments will eliminate the need to hire surgeons any time soon, access to today's latest medical technologies is allowing physicians to better compete with specialty centers, research labs and large medical networks.

Disruption involves the creation of a new market that replaces an old one, a process often accelerated by the introduction of a new technology or innovation. In health care, physicians face the challenge of keeping ahead of disruptive changes while staying competitive, compliant and building their practices.
EHRs must become more intuitive to aid patient engagement by Joseph Goedert
HealthData Management (06/2016)
While understanding that engagement efforts will be crucial to support changing reimbursement methodologies, these new efforts so far have been been perplexing to implement…..Part of the reason is that information technology in use by providers has been built to automate routine transactions and present useful information and services, but doesn't always meet that goal, he explains.

In short, patients may be following directions, but not taking additional steps to achieve optimal outcomes. Physicians, Terheyden says, need a more interactive approach to patient engagement; they can advise the need to reduce calories and exercise more, but that generally does not equate with a reduction in weight. What's required is a change not just in patient behavior, but physician behavior as well.

While patient engagement may not be optimal much of the time, there is a growing subset of patients who do research on their own. They are questioning what the physician advises and maybe even know more about a particular medical condition than the physician, van Terheyden says. "We doctors have to come to the realization that we're not always the smartest person in the room anymore. Patients need to be their own primary care manager, and physicians have to accept it."
'Artificial pancreas' is one of new tech devices aimed at diabetes by Mike Feibus
USA Today (03/2016)
One reason for the slow adoption is diabetes is much more difficult to take on with technology. "Diabetes is a more complex disease than COPD, heart failure and asthma," said Dr. Nick van Terheyden, Dell's Chief Medical Officer. "The cost savings take much longer to accrue. It takes years of poor management for severe, expensive complications to show up. And better management doesn't pay off nearly as quickly. For example, with heart failure, simply monitoring for weight gain can give an early warning that a patient is headed for hospitalization, and medication adjustments can often head that off," van Terheyden said. "So there is a big, immediate savings with a fairly simple input."

A year ago, an artificial pancreas seemed like a long way off. No longer.
Looking Back at CES: Are Consumers and Doctors Finally Bridging the mHealth Gap? by Erik Wiklund
mHealthIntelligence (01/2016)
The consumer technology conference offered its share of cool new trends, but mHealth experts say it might finally be giving clinicians something to sink their teeth into.
With CES 2016 in the rear-view mirror, mHealth experts are assessing whether the glitz and glam of Las Vegas yielded any jackpots for healthcare providers. The consumer-focused conference is seeing more digital health each year, and what once occupied a small pavilion in a Las Vegas Convention Center hall now fills part of the Sands Convention Center at The Venetian. But this year's show was still a hit-or-miss proposition for health system executives and doctors looking for the next big mHealth thing among the cars, televisions, gaming systems, drones and various other toys.

Nick van Terheyden, chief medical officer of Dell's Healthcare and Life Sciences division, says CES should hold value for healthcare leaders because it offers a glimpse into the popular consumer items of the future. And by figuring out what consumers are using and adapting them for clinical use, doctors could address that ever-tricky consumer engagement puzzle.

"Like it or not, the train has left the station, and healthcare has to catch up," he says. "The issue is we don't understand all of it right now because we've never had all this data before."

To those who argue that doctors are too busy and don't want to see data coming in from health and wellness devices, van Terheyden says that data can be used to the doctor's advantage.

"It's never a data problem – it's always a filter problem," he says. "The cool space is the application of existing technology to current problems" – in other words, taking what's already out there and making it work better.
The Quantified Selfie: Transformative Tech Amid the Toys at CES by Diane Brady
Brand Channel (01/2016)
In some parts of the world, like my living room, the smartphone might look like an addictive time-waster that cuts into homework, sleep, and physical activity. At CES 2016, the consumer tech show that wraps up today in Las Vegas, it's being transformed into a device that promises to make you faster, stronger, leaner, smarter, safer, better rested, less haggard, emotionally centered, or more likely to face the day with a full head of hair.

Still, a growing number of medical professionals and researchers come to CES for a glimpse of healthcare's future. Dr. Nick van Terheyden, the chief medical officer of Dell, made his first visit to CES last year and now looks set to make an annual pilgrimage. "I lay an awful lot of stock in this," he says while standing on the floor of the Eureka Hall. For van Terheyden, walking around the exhibit halls offers insight into the next generation of tools, the changing role of the physician, and new ways to empower patients in managing in their own care. With 2.4 million square feet of exhibition space, it also happens to be good exercise.

The most valuable technologies are not always the most sophisticated. One device that impressed van Terheyden: a spoon equipped with simple technology that allows it to remain stable in a shaky hand. "That could allow patients with Parkinson's Disease to feed themselves." Another intriguing innovation he found is a spectroscope that connects to your smartphone and can identify if the drug that you're buying is a fake. That addresses a real problem, especially in emerging markets.
Will the IoT Bring a Patient Engagement, Interoperability Revolution? by Jennifer Bresnick
HealthIT Analytics (01/2016)
Healthcare, at its most fundamental level, has always been about making connections. Whether it's the comforting hand of nurse reassuring a patient with a poor diagnosis, a researcher putting disparate data sets together to discover a lifesaving treatment, or a surgeon sharing good news with a worried family, communication in all its forms is vital to bringing good health to patients.

"The Internet of Things has started to really explode onto the scene in a number of places," said Dr. Nick van Terheyden, Chief Medical Officer at Dell. "We've seen it expand very quickly into the home. At the beginning of this, there were some questions about why we would need our refrigerator to talk to our smartphones, and things like that. But I think as we start to understand the impact and the consequences and opportunities of the IoT, it will open many doors."
2015
2016 Will be the Year of the Healthcare Consumer (Again) by Erik Wiklund
mHealth Intelligence (12/2015)
This past year, healthcare invited the consumer to the table to join in the conversation. Now, armed with better mHealth tools and platforms, health systems and doctors will put the consumer at the head of the table. "2016 will be the year of the consumerization of healthcare," says Nick van Terheyden, chief medical officer of Dell's Healthcare and Life Sciences division and a man who'd had many different roles in the growing mHealth/telehealth/digital health movement around the globe. "We are all fact-checkers now. We all have access to incredible amounts of information."

The driving force behind this concept is consumer engagement – what van Terheyden calls "the blockbuster drug of the century." It holds the top spot on the to-do list for a vast majority of health systems and healthcare providers in the coming year. That's because an engaged consumer will be more responsive to care management, especially after the visit to the hospital, clinic or doctor's office (and that can either be in person or virtually). "It's not about the doctor – it's about the data," says van Terheyden. "It's about filtering data and looking for ways to make it useful. … It's about (realizing) that mHealth is not an affront to physicians but a tool."
Insider information: The key to a healthier you by Mike Feibus @mikefeibus
USA Today (12/2015)
Technologists, scientists and healthcare professionals plan to harness your inside information to uncover what conditions you're likely to contract, which medications would be effective in treating them and what you can do to contain — or even avoid — the diseases in the first place. It has the potential to transform healthcare, making our lives substantially better, while saving us billions of dollars a year in healthcare costs.

"I can give you guidance on things you should be doing, things you should avoid, drugs that may be effective," Dr. Nick van Terheyden, Dell's chief medical officer, told me. "I can extend your life by eight years and I can make the quality of those years better. And that's just based on what we know from genome sequences today."
Industry Uses De-Identification To Protect Health Data, but Privacy Risks Remain
iHealthBeat (11/2015)
As health care organizations increasingly share patient data with public health entities and use patients' information for big data analytics and precision medicine initiatives, the consensus is that de-identification will become a more important tool for health care researchers and academics to minimize privacy risk.
Bridging the Gap Between Technology and Time With Patients
MD Magazine (05/2015)
Assessing the conundrum of patients comfort with technology but not how it is being used:
The survey told us that people like technology; they just don't like the way it's being used with the patient-physician interaction..Patient engagement is more than just a buzzword of the moment—it's a key to unlocking a healthier population and fixing some of the widening cracks of the healthcare system
Social Media Leads the Way in Patient Engagement
Diagnostic Imaging (04/2015)
Before a patient even walks in the door, he's already generated a first impression of his physician and practice based on what he's found online.

"Our patients have formed an impression before they've met us [in person],"said Nick van Terheyden, the chief medical informatics officer for Nuance Communications during the Healthcare Information Management and Systems Society (HIMSS) Annual Conference.
Patient Portals and Tracking Devices Driving Engagement
EHR Intelligence (04/2015)
As EHR systems, patient portals, telemedicine, electronic prescribing, and other technologies continue affecting the healthcare industry, more stakeholders are considering how these tools are impacting patient engagement.
Do Patient Engagement Measures Address Privacy Concerns?
EHR Intelligence (04/2015)
With patient engagement measures playing a significant role in the recently released Stage 3 Meaningful Use proposed ruling, it becomes more imperative than in prior years to better understand how to effectively engage patients in their own healthcare.
Nuance Communications, Inc. recently surveyed 3,000 people across the U.S., U.K. and Germany about their views on the physician/patient relationship and the role technology plays in it. Even though 97 percent of the respondents are comfortable with technology in health care, they believe physicians need to spend more time engaging and educating them. Here's my interview about the issue and what can be done about it in DotMed Daily News.
Nuance Survey Reveals Patients Value Technology, but not at the Expense of Time and Engagement with Physicians adn I am quoted in Silicon Investor, Boston.com, Clinical Innovations, Diagnostic and Interventional Cardiology, and the Marketplace amongst others.
What's the verdict on HIEs?
Health Management Technology (03/2015)
Technology is contributing to physician shortage, but it can also be its saving grace
Becker Hospital Review (03/2015)
 2014
How ICD-10 is like 'Game of Thrones' 
HealthcareIT News (09/2014)
2013