This week I had the fortune of speaking at the Connected Health – Healthcare Reinvented – Customer First
I pulled together an update in resources on the payment streams for mHealth activity alongside some review of the players in the space and some success stories
The over riding principle in my mind is encapsulated by this quote from Sir William Osler
"The good physician treats the disease; the great physician treats the patient who has the disease."
The focus of everything we do should be on the patient and not on the technology – this is the Art of Medicine.
Currently chronic disease is a major challenge from a resources and cost standpoint
Today, 133 million Americans – 1/3 of the total population suffer from at least one chronic disease
70% of all deaths result from chronic diseases
85% of all healthcare dollars go to treatment of chronic diseases
More than 2/3 of Medicare dollars are spent on patients with 5 or more chronic diseases.
On January 1, 2015 the published Final 2015 Physician Fee Schedule was published and included provisions to allow for Chronic Care Management and the ability to bill for these services
Physicians can bill Medicare for "non-face-to-face" chronic care management (CCM)
Chronic care management services, at least 20 minutes of clinical staff time directed by a physician or other qualified health care professional, per calendar month, with the following required elements: multiple (two or more) chronic conditions expected to last at least 12 months, or until the death of the patient; chronic conditions place the patient at significant risk of death, acute exacerbation/decompensating, or functional decline; comprehensive care plan established, implemented, revised, or monitored.
Good news is the private payers are following suit but it is not universal and there are many caveats and barriers:
Only valid for some specialities
Reimbursement chronic disease
Multiple Doctors, only one can bill for fee per month
There are limitations for populations covered (mostly rural)
There are many players in the Telehealth space and this is a great place to start to find them and some great resources: TeleHealthResourceCenters.Org and the pointers to Resource Centers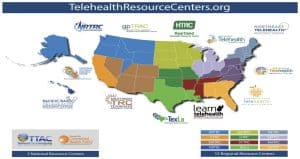 There are significant challenges but 2 specifically are limiting the opportunity for mHealth to positively influence DigitalHealth and the health of the population cost effectively:
We need to fix the state licensure issue
Patients in WI are same as those in CA, but state medical boards treat them different. Must change. @drnic1 #telehealth #connectedhealth15

— Drew Schiller (@drewschiller) June 18, 2015
  We need to include Store and Forward for everyone
"store and fwd needs to be included in #telehealth…like the convenience of email" @drnic1 #connecthealth15 — Nick Adkins (@nickreeldx) June 18, 2015
We know that treating chronic disease cost effectively is better achieved by addressing behavior and preventing the onset of actual illness vs our current norm of treating the conditions as they arise. There is good data to show that we can influence behavior to improve people's health and reduce the need to visit hospitals – keeping them healthier longer. This principle is captured in this chart of life:

We all want to be in the Fun Area
You can find the presentation here on Slideshare or below
My thanks to David Lee Scher, MD, David Collins from HIMSS, and Kavita Patel, MD from the Brookings Institute amongst others
---
You can also follow me here on
medium
, on
twitter
, or on
facebook
or Sign up to receive my posts each week