This is a summary of the presentation I gave at the HIC 2015 conference in Brisbane on Wednesday Aug 5 at 12:15pm (program)
Technology is an integral part of our lives – just take a look around: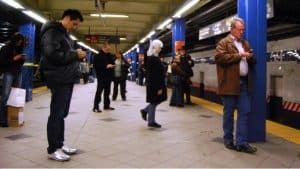 But unfortunately our health has suffered as a result of lifestyle changes – elegantly captured by this chart by (this courtesy of Brigitte Piniewski, MD)

As she describes it we all want to move form the "No Fun" to the "Fun" part of life
So how do we achieve that – much of this will come from Patient Centered Healthcare and Monitoring that offers increased efficiency of healthcare delivery that includes
Self management
Patient data capture
Home Health and Telemedicine
Improved Personalized Medical Treatment
And significantly using wearables to help track and monitor multiple parameters about our health
That landscape is packed with technology as captured in this great chart from Rock Health:
But unfortunately while we have seen benefit form these devices their effect tends to tail off and keeping participants engaged needs some interaction as this piece in the NY Times pointed out: Technology That Prods You to Take Action, Not Just Collect Data 
But all these devices share a common problem – they are typically difficult to interact with and use not least of all because o the small screen. Speech has th potential to help alleviate these problems by offering a simple easy to use interface that features:
Voice Biometrics that can authentication and customize the experience
Includes understanding that offers conversation as well as Direct Access to Functions with simple easy to remember phrases or commands
And responds with Expressive, natural sounding, customized voice
All this is multiple steps of processing by the machine based on one simple command: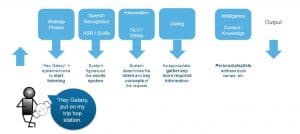 Intelligent systems break down technology barriers and ease the shift to the digital age of healthcare.
Are you ready to…
Do more of what's possible,
Do more of what matters,
Do more of what brings success?
You can find the presentation here on slideshare or below
---
You can also follow me here on
medium
, on
twitter
, or on
facebook
or Sign up to receive my posts each week